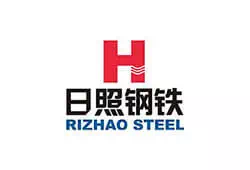 Rizhao Steel Co., Ltd. is located in the beautiful coastal city of Shandong Province - Rizhao, located in the east end of the new Asia-Europe Land bridge, facing Japan and South Korea across the sea. The company is jointly established by Hebei Jinghua Innovation Group, Shandong Laisteel Group and Hong Kong Yujin Development Co., LTD. In response to the national industrial policy of metallurgical and steel industry, taking the "double high" enterprise development road, the company has introduced a full set of advanced H-beam steel production equipment from Italy Danieli Company. The annual production capacity of the first phase project is 2.8 million tons of steel, and the scale of 1.2 million tons of steel and 800,000 tons of H-section steel has been formed. The annual output value is more than 3 billion yuan. Its leading product, H-beam steel, is one of the ten technological progress products promoted in the national Tenth Five-Year Plan Period. It is divided into HW, HM, HN series, and the specifications are H100mm-H350mm.
As an economic section steel, H beam is widely used in industrial and civil construction, railway Bridges, municipal construction, nuclear industry, shipbuilding industry, aerospace industry, petrochemical industry, highway and many other fields. Companies adhering to the "advancing with The Times, earnest and realistic, unity and cooperation, happy steelmaking" faith, seize the day, with fearless spirit, innovation, forge ahead, adhere to the road of professional production, to make the enterprise stronger and bigger. In addition to relying on the unique geographical conditions of Rizhao Port, the company has efficient operation mechanism; Decision-maker's excellent and advanced business philosophy; A pragmatic, concise and effective management system; Many years of experience in the operation of iron and steel enterprises constitute the core competitiveness of enterprises. Adhere to the "integrity, quality, high efficiency, innovation" of the enterprise purpose, quality of survival, credibility and development, the full implementation of the ISO9000 series quality management system and ISO14000 series environmental management system requirements, active into the world trend, pay close attention to the global market, to create brand steel, characteristics of steel.
Rizhao Iron and Steel is one of the first batch of iron ore import qualification enterprises approved by the Ministry of Commerce. In recent years, it has signed long-term strategic cooperation agreements with the world's largest iron ore suppliers such as Rio Tinto and BHP, Brazil CVRD and so on. In 2004, the company passed the IS09001 quality certification and ISO14000 environmental management system certification. In 2005, the company obtained the production license issued by the State Administration of Quality Supervision, Inspection and Quarantine. In December 2006, the State Administration of Quality Supervision and Quarantine awarded the medal in the Great Hall of the People and awarded the title of national inspection-free product.
The sinter plant can produce 15 million tons of sinter and 1.5 million tons of pellets annually.
The ironmaking plant can produce 7.5 million tons of molten iron annually. PW bellless top is used for all blast furnace top equipment, the same side hydraulic mud cannon and hydraulic opening machine are used in front of the furnace, and axial flow compressor is used for fan. The coal injection system uses two mills with a production capacity of 33 tons/hour and a coal injection capacity of 150 kilograms of iron.
The e steel mill can produce 7.5 million tons of billet annually. In addition to ordinary carbon steel, high-quality carbon steel, low alloy high strength steel, low carbon steel, pipeline steel below X65 and weathering steel.
The H-section steel plant has an H-section steel production line, with an annual output of 1.3 million tons of HW, HM and HN series and 19 kinds of H-section steel and I-beam, among which H192×198 lightweight thin-wall H-section steel fills the domestic gap.
Bar factory has a bar production line, a disc screw production line, can produce the national standard, Japanese standard, British standard φ12-40mm ribbed bar and φ16-50mm round steel 1.2 million tons, and can produce high strength three level rebar.
The high-speed wire factory has three high-speed wire production lines, which can produce 3 million tons of smooth wire with Φ5.5 -- 16mm and steel bar with Φ6.0 -- 14mm thread. The steel types are carbon structural steel, high quality carbon structural steel, low alloy steel, cold heading steel, welding rod steel, spring steel, alloy structural steel, etc. The finished products are all made by one fire.
The strip mill has a 1580mm hot rolled coil production line, which can produce 2.5 million tons of coil with a width of 700-1430mm and a thickness of 1.2-16mm. The plate steel is mainly composed of ordinary carbon structural steel, high quality carbon structural steel and low alloy high strength structural steel.