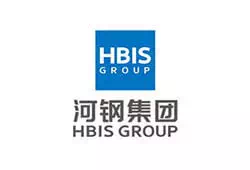 Hebei Iron and Steel Group Co., LTD. (hereinafter referred to as Hebei Iron and Steel Group) is a super large steel enterprise jointly established by the former Tangshan Steel Group and Handang Steel Group on June 30, 2008. At present, the group has 16 subsidiaries directly under its control, mainly focusing on steel, covering four major sectors, namely steel, equipment manufacturing, financial services and modern logistics. By 2020, Hesteel has nearly 121,000 employees worldwide, including 13,000 overseas employees.
Since its establishment, the annual steel output of the group has increased from 31.08 million tons to 42.84 million tons. Its operating revenue increased from 124.8 billion yuan to 247.8 billion yuan, and its total assets doubled from 148 billion yuan to 316.8 billion yuan. The company's comprehensive competitiveness and international influence have been continuously enhanced, and it has been ranked among the World's top 500 companies for five consecutive years, from 375th in 2009 to 269th in 2013. In 2013, it ranked 35th in China's Top 500 Enterprises and 10th in China's Top 500 Manufacturing Industries. It has been listed in the "Top 500 World Famous Brands" and "the World's Most respected Company". The group won the "National May Day Labor Certificate" and the first prize of national enterprise management innovation achievements.
Hebei Iron and Steel Group owns 1,854 independent intellectual property rights, has formulated a number of national product standards, more than 200 steel varieties have replaced imports, and a number of "high quality, fine and sophisticated" products have been exported to more than 40 countries and regions. The Beijing Olympic "Bird's Nest", the World Expo China Pavilion, the Three Gorges Project, the west-east power transmission, the South-North Water Diversion Project, the new site of China Central Television, more than 40 world-famous Bridges such as the Lupu Bridge in Shanghai and the New Bay Bridge in San Francisco in the United States, the Capital Airport, the Beijing-Shanghai high-speed Railway, the Guangzhou-Shenzhen Expressway and other major transportation hubs, As well as Shenzhou V, Chang 'e 1, special armored vehicles and other aerospace, national defense and military fields, the group's products have made outstanding contributions.
The leading products of Hebei Iron and Steel Group include: bar, wire, profile, hot rolled strip, hot rolled plate, cold rolled plate, galvanized plate, color coated plate, wide and thick plate, welded pipe, vanadium penoxide, vanadium nitrogen alloy, ferrovanadium alloy and other series, covering almost all specifications required by the market.