The coated plate is also called organic coated plate or pre-coated steel plate, which is made of metal coil (cold rolled plate, hot galvanized plate, aluminum plated plate, high aluminum alloy plate, stainless steel plate, etc.) as the substrate, and is coated or laminated with various organic coatings or plastic films on the surface. Because it is a coil that completes the surface coating in a metallurgical plant, it can be directly processed into products by users, so it is also called pre-coated coil.

The coated plate has the advantages of both organic polymer and steel plate, both the good coloring, formability, corrosion resistance, decoration of organic polymer, and the high strength and easy processing of steel plate, and can be easily blanked, bent, deep drawing, welding and other processing. This makes the products made of organic coated steel plates have excellent practicality, decoration, processability and durability.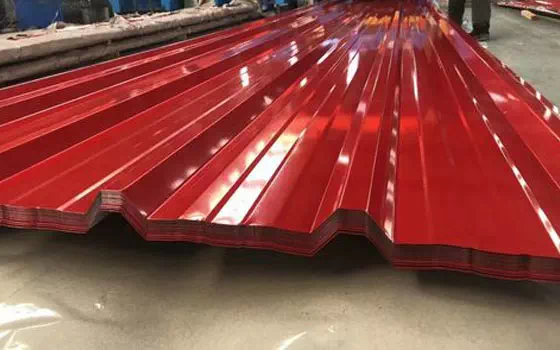 There are many varieties of coated plates, about more than 600 kinds, but there is still no unified classification method, because it is difficult to find a standard to distinguish between many varieties, and each manufacturer has its unique equipment, process, and a wide variety of products. It is classified by general custom only.
1. Type by substrate. Usually used for organic coated steel plate substrate are: cold rolled plate, hot galvanized plate, electrogalvanized plate, alloyed plate, galvanized aluminum plate, electrogalvanized alloy plate, tinplate, chromium-plated plate, aluminum plate, etc.
2. Classified by processing technology. According to the different coating methods, there are roller coating method, spraying method, powder method, film method, printing method and other organic coated steel plate. According to the different coating times, there are different processes of coating organic coated steel plate, such as one coating and one drying, two coating and two drying, three coating and three drying, four coating and four drying. According to embossing or printing processing points, can be subdivided into wood grain board, marble grain, skin grain, cement mortar grain coating steel plate.
3. Classify by paint type. Usually classified according to the coatings used to make organic coatings, there are polyvinyl chloride coated steel plate, polycool coated steel plate, acrylic coated steel plate, fluorocarbon coated steel plate, silicon coated steel plate and so on.
4. Classification by coating performance. According to the performance characteristics of organic coating, there are high weather resistant coating board, high temperature resistant coating board, self-extinguishing coating board, sterilization coating board, non-stick snow coating board, fingerprint resistant coating board and self-lubricating coating board.
5. Classification by special paint and application. Such as epoxy zinc-rich paint, cold-rolled steel plate as the substrate of organic coated steel plate, surface flocking steel plate and some special machine coated laminated board, such as wood film board, sandwich board, shock-proof board.